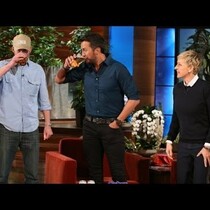 Posted April 4th, 2014 @ 8:30am
In case you missed it, LUKE BRYAN admitted on "Ellen" that the only time he drinks alcohol while performing is during his Spring Break shows.
So, she brought out some weak-looking guy for a chugging contest . . . and the dude wiped the floor with him. Twice. Here's the video.