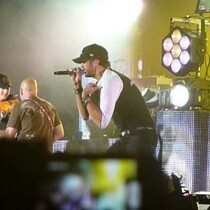 Posted November 25th, 2013 @ 7:08am
In case ya'll haven't seen this: JASON ALDEAN and "Duck Dynasty's" WILLIE ROBERTSON made a surprise appearance at LUKE BRYAN'S recent concert in Dallas.
They weren't there to perform, though. They brought a bunch of half-naked dudes on stage so they could dance to "Country Girl (Shake It For Me)".