JAKE OWEN SPLIT HIS BRITCHES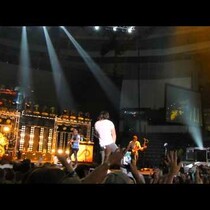 Posted May 22nd, 2013 @ 5:27am
JAKE OWEN had a serious wardrobe malfunction at his show last Friday in Charleston, South Carolina. He went airborne to do the splits while performing VAN HALEN'S "Jump" . . . and busted his pants wide open.
Jake picked a bad time to go commando because the audience got a clear look at his bare butt cheeks. Here's the video.
Jake left the stage and came back later wearing NO shirt . . . because he used it to cover up his exposed bits. Here's that video. Don't miss this one ladies.
After the show, Jake joked about it in a Tweet. He wrote, "Charleston will never be forgotten. My jeans ripped on stage tonight. Going commando = bad idea. Although, great breeze here. Coastal town."