DIERKS CAN HAVE ALL MY NOPES!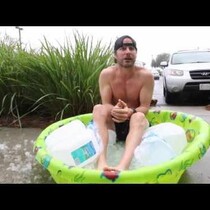 Posted January 6th, 2014 @ 6:34am
An "Alligator Warning" sign prevented DIERKS BENTLEY from jumping into a Florida pond for his traditional New Year's Day Polar Plunge. So, he used a kiddie pool instead.
He Tweeted, "My dumbest and funniest 'lake' jump ever! Ridiculous, but we got it done and ensured good luck for 2014!"