BRAD PAISLEY TRANSLATES HIP-HOP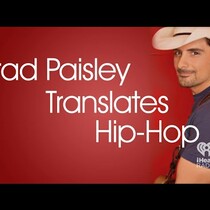 Posted September 3rd, 2014 @ 7:03am
BRAD PAISLEY has a famously swoon-worthy country twang going on . . . or, "goin' on," if we're really keepin' it country.
Since he's a cowboy with some serious swag, we couldn't resist having a little fun with him At The Back Door backstage before his iHeartRadio Album Release Party celebrating Moonshine In The Trunk.
Watch as Brad takes famous rap lyrics from Notorious B.I.G., Drake and even Iggy Azalea and puts a country spin on them!