EVERYONE Is Talking About This Video Of Coach Belisle.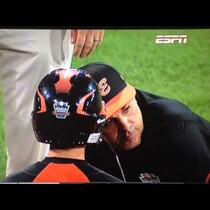 Posted August 20th, 2014 @ 9:59am
If you're sick of stories about how mean coaches are to little kids (Dance Moms, anyone?) you're going to fall in love with Dave Belisle.
He's the coach of the Cumberland American team from Rhode Island who lost in the Little League World Series Monday night.
And the reason everyone is still talking about him this week is because of the incredible speech he gave to his players after their 8-7 loss.
Watch it below.