Luke Bryan FALLS On Stage During Show!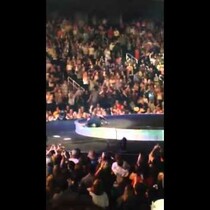 Posted February 18th, 2014 @ 10:41am
Luke's 'My Kind Of Night' tour hit up Greensboro last night...and right in the middle of the show Luke fell, haha! Now, don't you worry, he was just fine.
I saw one comment on the video that said, "and he still looked fine as ever doing it!"
Really? Because I tripped the other day and this girl laughed at me. Damn double standards ;)